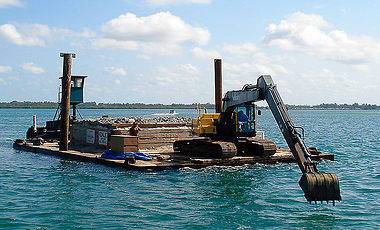 After more than a decade of large permitting and engineering companies attempting to obtain the necessary permits to perform dredging in many of the canals of South Tampa and hitting road block after road block, Duncan Seawall was been able to permit and complete the dredging in less than 36 months. There were 15 companies of various sizes interviewed by the City of Tampa in July of 2010 and Duncan Seawall made the "short list" in January of 2011. After a presentation to the City of Tampa, Duncan Seawall was awarded the contract to permit and dredge the canals because of the various dredging experience of completed projects in the South Tampa area. Duncan Seawall recently completed the 50,000 cubic yard mechanical dredging project in March of 2015 both under budget and ahead of schedule. Due to the strict time line of the project, Duncan Seawall had up to four mechanical dredge barges and six track hoes operating simultaneously in the tight canal systems.
Related Blog: Sawgrass Lakes Dredging Project

If you are considering a dredging project, either hydraulic or mechanical, anywhere on the west coast of Florida, let the professionals at Duncan Seawall handle the entire project from permitting to clean up. No job is too small and obviously, no job is too large.