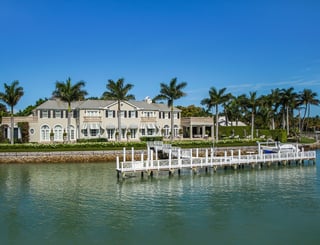 Whether you're looking to upgrade your current dock or starting from scratch, your waterfront property deserves the best treatment. A great looking dock can transform your property as well as provide a place to do countless activities with family and friends. Whether you're boating, fishing, swimming, or lounging, your dock needs to be safe, durable, and absolutely stunning.
Improving your dock's appearance and safety should be at the top of your to-do list this year.
Related Blog: Get A Grip! Best Non-Slip Materials for Your Fishing Dock
1. Ensure Proper Traction
Everyone knows that keeping your dock dry at all times is literally impossible. Docks are going to get wet from splashes, rain, and wet shoes walking around on it day after day. If you have a wood dock, consider upgrading to materials that have more grip. Wood tends to be a lot more slippery, whereas a material such as composite decking provides much better traction. Safety is critical whenever you're around the water. No one wants your guests breaking an ankle or slipping into the water unexpectedly!
2. Install Dock Accessories
Dock accessories are here to make your life even easier. They range from being functional to adding visual appeal. If you use your dock for entertainment purposes, consider adding a shaded roof or gazebo to provide shade from the sun. Adding chairs or benches is also a great way for your guests to relax near the water.
Here are some other great dock accessories:
Dock box (organize, store valuables, towels, chairs, fishing/swimming gear, etc.)
Fish cleaning table
Ladders
Bumpers
Handrails
Lights
Pile Caps
Dock Step Downs
Remember that the type of accessories you pick depends on the size of your dock and what you'll be using your dock for.
3. Repaint or Restain Your Dock
Sometimes all your dock needs is a fresh coat of paint or stain to make it look better than ever. This will also help protect your dock from any future inclement weather. Using a high-quality non-slip paint can help prevent falls and other accidents. If your dog or other animals will be using the deck, be sure to stay away from any toxic paints or stains and allow plenty of drying time.
4. Install LED Dock Lights
LED lights are a great and simple way to add a touch of beauty to your waterfront. The lights are incredibly efficient and very bright. They light up your deck ensuring you'll always find your way home after a day on the water, and they also attract many kinds of fish. Whether you'd like lights above water, below water, or on another part of your deck, there are a variety of lights available to choose from. Duncan Seawall can help get you all set up with the electrical aspects to have your dock shining like a star.
5. Keep a Maintenance Schedule
Maintaining your dock is just as important as taking great care of your beloved boat. Over time, the elements start to wear and it all takes a toll on your dock. Do yourself (and your dock) a favor and pencil in a once a month check up. Take pictures, inspect nails, clean, and do any minor repairs that need attention. Taking the time to tune into your dock could save you a lot of money down the road.
For great tips on how to keep your dock in optimal condition, visit here.
Duncan Seawall can customize your deck any way you'd like it. Since 1979, our skilled carpenter's have taken pride in building the highest-quality decks in Southwest Florida. From large commercial projects to smaller residential ones, our unbeatable service team has you covered every step of the way.
Let us handle your next project, contact us today for more information or to schedule a consultation.