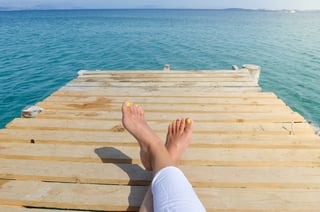 When you invest in a dock for your waterfront property, you want to ensure that you take the necessary steps to maintain it. And while the weather conditions can take their toll on your deck's appearance and functionality, you can take steps to reverse the damage.
Related Blog: Best Materials and Brands for Your Florida Dock Project
Here are 5 ways to carry out effective repairs on your dock:
1. Decking Replacement
While wood used to be a popular choice for building docks, a new vinyl composite is taking the market by storm. It helps avoid the gradual wear and tear that occurs on wood surfaces as they are exposed to the elements over a long period of time, thereby enhancing the life of your dock by several years.
2. Piling Replacement
The piling for your dock may remain mostly unseen, but it is the base which supports the entire structure and needs to taken care of accordingly. One way to do so is by using pile wrap material to secure the outside of the posts against wear and tear. Many types of pile wrap are available that can provide ample protection to your posts at very reasonable costs.
3. Wood Decking Sealant
If you want to continue using a wooden deck, you need to take steps to ensure that the wood is protected. This means applying sealant to wood surfaces to create a water-and-sun resistant surface. There are many types of sealant available on the market that can be applied to your specific needs and the conditions of your docking area.
4. Addition of Dock Accessories
Once the dock is constructed, you might look at the broad expanse of sparkling deck space and decide you want to add some more features to the structure. Various accessories can be installed including dock boxes, cleats, a ladder, kayak roller or launcher among others which will be of significant assistance in loading and unloading your water-based vehicles.
5. Electrical Upgrades
Docks have come a long way since their creation. The modern dock is built to operate comfortably in all kinds of weather. But this will only be possible if you have installed the latest electrical conveniences on your dock, which include lighting, security alarms and cameras, power outlets and all the attending wiring requirements.
Taking these steps will ensure that your dock looks as good as new, and will continue to service your needs and the needs of your water-based vehicles for many years to come!