Living along the Gulf Coast of Southwest Florida is a perfect location for boaters wanting to explore and adventure throughout the year. Whether sightseeing, fishing, visiting attractions, dining out, sunbathing, getting away for a weekend, or even finding a home on the sea, Southwest Florida has many options when it comes to marinas.
In an effort to help get the adventure going, let's examine 5 of the top Southwest Florida marinas to visit this year.

Related Blog: Vinyl Seawall Panels: When and Where To Use Them
When traveling just south of Fort Myers near the Pine, Sanibel, and Estero Islands, boaters can take a break and enjoy Salty Sam's Marina on the San Carlos Island.
This well-established marina has been in operation since 2005 and gives visitors many options when it comes to enjoying their stay.
Visitors can enjoy waterfront dining at the Parrot Key Caribbean Grill and the Original Shrimp Dock Bar & Grill, rent a kayak, or enjoy the nearby Fort Myers Beach and Crescent Beach Family Park. Visitors can also take the Florida Pirate Cruise on a 65ft Spanish galleon replica ship and be sworn in as pirates, fire off live cannon rounds, and participate in a mutiny against the Captain!
A few miles north of Salty Sam's Marina, boaters can turn in at the Port Sanibel Marina located within the Punta Rassa Cove near the Connie Mack Island.
This "Old Florida" style marina has all the amenities visitors need to enjoy a pleasant stay, including marble bathrooms with showers, park-like landscaping, and the Lighthouse Restaurant featuring indoor and outdoor waterfront dining and a lounge.
Boating along the Southwest Gulf Coast in Florida is an exciting experience with all the islands, coves, and destinations to see and experience.
Marina's like the Port Sanibel Marina are the connecting points for boaters; whether staying for a week or a night, visitors can enjoy special places such as the mile-long Nature Boardwalk that runs through a mangrove forest near Port Sanibel, or the Adventures in Paradise destination nearby.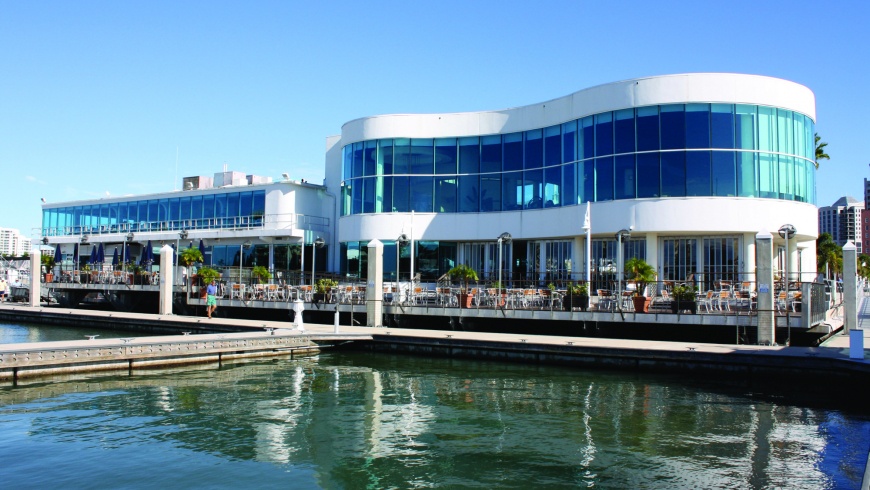 Moving north along the Southwest Florida Gulf Coast, boaters can dock at the Siesta Key Marina just south of Sarasota. This full-service marina has been in operation since 1961 and is located on the inside of Siesta Key with Roberts Bay to the north and Little Sarasota Bay to the south.
Boaters can stock up on supplies and get fueled up while visiting the waterfront Tiki Bar within the marina. This marina is a fixture along the Siesta Key and is right along the south bridge that connects the Siesta Key island with the mainland and South Sarasota, which makes it a convenient place to dock and enjoy the city life and surrounding attractions.
Heading south of Sarasota and Fort Myers, boaters shouldn't miss the luxurious Naples Bay Resort & Marina, which is Southwest Florida's only waterfront hotel with a full-service marina. This special destination gives boaters the choice of staying on dry ground in a Tuscan designed waterfront hotel while docking in one of their 97-slips.
There are many things to do at or around this top marina destination, including dining at world-class restaurants such as 1500 South, Bonefish Grill, Blue Water Bar and Grill, and Naples Coffee Cafe. Visitors can also enjoy their spa, whirlpool, lap pool, a two-story waterfall, tropical gardens, floating down their flowing river through lush tropical gardens, and more. Suffice it to say, this marina offers boaters a unique and luxurious experience during their adventures along the Gulf Coast of Southwest Florida.
Last but not least, when boaters are heading further south towards the tip of Southwest Florida, they can visit a small but special destination called Isles of Capri Marina. Located south of Naples and just north of Marco Island, Isle of Capri Marina offers boaters a unique and beautiful place to rest and relax away from the crowds; along the Tarpon Bay, visitors can sit back and enjoy the Island Gypsy Cafe & Marina Bar which is "locally world famous."
---
Boating along the Gulf Coast of Southwest Florida offers an endless amount of excitement and adventure. The 5 marinas we've highlighted are only the tip of the iceberg of destinations and attractions to see and experience, yet are definitely worthy of visiting and enjoying this year.