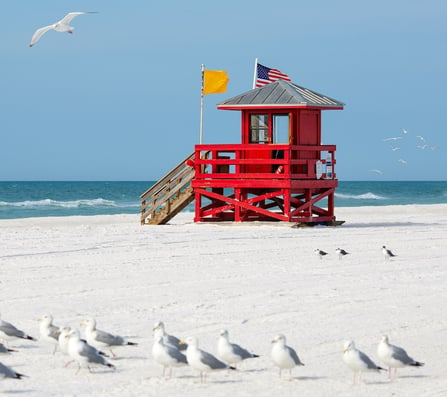 After an enjoyable afternoon cruising around in your boat, you might want to stop for a bite to eat while you are out or before heading home. Many restaurants on the Sarasota waterfront are conveniently accessible by boat. It's always a good idea to call ahead for boat docking information before heading to a waterfront restaurant.

Related Blog: Top 4 Upgrades to Make to Your Dock
Consider checking out one of the following restaurants next time you are boating in Sarasota:
Boatyard Waterfront Bar & Grill – 1500 Stickney Point Rd., Sarasota – (941) 921-6200
Accessible by boat and land, the Boatyard Waterfront Bar & Grill offers a blend of casual and elegant dining. With their waterfront dining room, diners have a complete view of the waterfront. Dockside dining allows you to have a majestic view of Little Sarasota Bay and the opportunity for seeing manatees and dolphins. You could choose to enjoy the freshest seafood available with the Boatyard's taste-tempting menu. You also have the opportunity for Boatyard to cook your "catch" and serve it with your choice of potato and vegetable of the day.
Phillippi Creek Village Restaurant & Oyster Bar – 5353 S. Tamiami Trail, Sarasota – (941) 925-4444
Known for its tropical setting, the Phillippi Creek Village Restaurant & Oyster Bar attests to having the best oysters in town in a casual and fun atmosphere. This restaurant has been voted "Best of the Best" for 12 years in a row. Accessible by both land and sea, you can enjoy indoor or outdoor waterfront dining while you dine on fresh, local seafood. If you are in the mood for a more elegant dining experience, head on into The Table Creekside next door.
New Pass Grill & Bait Shop – 1505 Ken Thompson Pkwy., Sarasota – (941) 388-3050
There's something to fit the tastes of everyone with New Pass Grill & Bait Shop's wide selection of both land and sea menu options. Most notably is their award-winning New Pass Burger, which is has been a favorite of customers with over a million sold since 1929. Accessible by both land and sea, this local landmark offers casual waterside dining starting from breakfast through lunch and early dinner seven days a week from 7 a.m. to 5 p.m. You can fill up on food and replenish your stash of bait all in one place. Make sure to check out their amazing hat collection as well.